The Sandman Will Keep You Awake - The Loop
Play Sound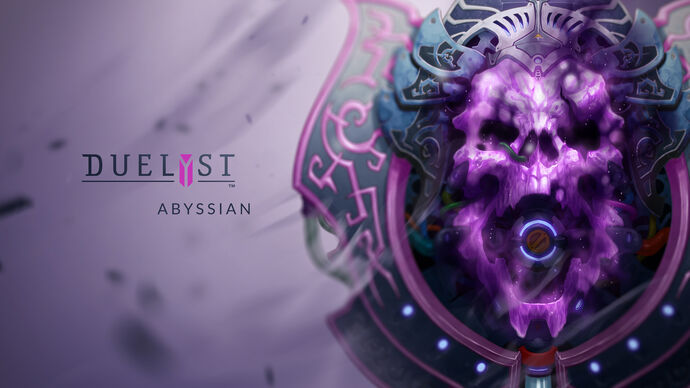 Description
[
]
As Abyssian, you excel at removing big threats and can generate many small Minions, while also having great late game threats. Deathwatch can power up your Minions, deal damage while healing you, or generate Wraithlings. Wraithlings are 1/1 tokens that can be used as sacrifices for powerful spells and cause more deaths on the battlefield to fuel Deathwatch effects. You can also create Shadow Creep, which deal damage to the opponent if they are standing on that tile by the end of your turn, along with many ways that you can grow plenty of it, and many spells that can affect enemies or allies on the shadow creep. And lastly, you boast a wide range of removal spells. Although you are high on damage and battlefield control, your creatures are not very efficient.
Lore information
[
]
The Abyssian Host is a weird humanoid offshoot coming from reptiles instead of mammals, living in deep underground caves, aggressive and obsessed with becoming the apex life form on Mythron. In this species, the males and females follow very different paths of physical evolution and behavior. For more information, see Lore.
Strengths
[
]
Your battlefield advantages can be quickly converted into damage with Deathwatch.
Numerous damage spells allow you to be play very agressively.
You possess many different forms of Minion removal.
Moderate amounts of "vampire" healing that damages your opponent.
You can use a variety of different deck archetypes and strategies.
Shadow Creep threatens enemies from stepping on it, allowing for battle field control.
Weaknesses
[
]
Difficult to come back after you have no more Minions on the battlefield.
Your removal is expensive, requiring a sacrifice of your own Minions or a lot of Mana.
Your Minions are not very efficient and rely on Deathwatch to gain effectiveness.
Difficulty against Dispel; your Deathwatch and Shadow Creep are both Dispellable.
Low cost creatures that fuel Deathwatch are very frail and survive mainly by outnumbering your opponents, causing Area of Effect damage to be highly effective against you.
Generals
[
]
Minions
[
]
Spells
[
]
Artifacts
[
]
Tokens
[
]
Trivia
[
]
Abyssian was once called Magmar and Magmar was called Abyssian. The devs decided their names suited each other more than themselves and switched the names.