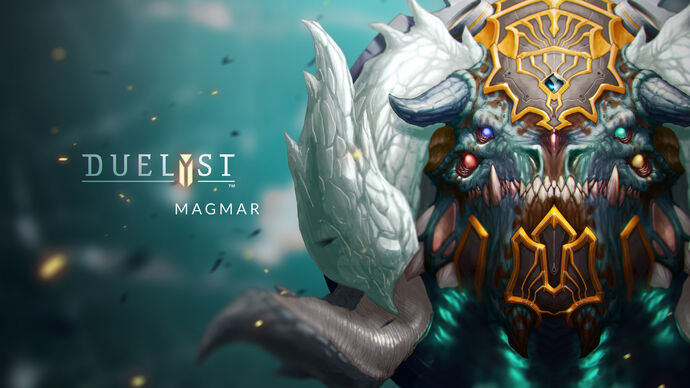 As Magmar you are big, slow, and powerful. Once you reach your opponent, your enormous Minions and mighty Artifacts can deal massive damage! You can slowly take over the battlefield as your opponent runs out of space to retreat by using Grow Minions. You'll quickly end your opponent's life in melee range by using Rush and Frenzy Minions along with Artifacts. Your removal is good, with lots of Area-of-Effect.
Lore information
[
]
The Magmar are a consort of 13 reincarnating saurian, the first sentient beings on the world of Mythron. As the elders, they try to guide societies in a path they perceive being best for world peace, also making gene experiments on local mega fauna for their own purposes. For more information, see Lore.
Strengths
[
]
Your Minions are very resilient and can be buffed for a very low cost.
Using Kujata and Flash Reincarnation, you can reduce the cost of your creatures.
Your great Area-of-Effect and single target removal keeps the battlefield clear of threats.
Extremely powerful when in melee range of your opponent.
You have many ways of using Frenzy, including Makantor Warbeast, a Minion with both Rush and Frenzy.
Weaknesses
[
]
Some of your Spells and Minions have high costs for their effects.
Your Minions may take a while to reach your opponent unless you're playing with lots of Rush.
It's difficult to remove your opponent's Artifacts.
Your faction draw options are giving cards to both players at the same time.
Many of your Spells and Minion effects can damage or destroy your Minions. Some can also damage your General!
More and in depth can be found here.
Trivia
[
]
Magmar was once called Abyssian and Abyssian was called Magmar. The devs decided their names suited each other more than themselves and switched the names.
Generals
[
]
Minions
[
]
Spells
[
]
Artifacts
[
]
Tokens
[
]