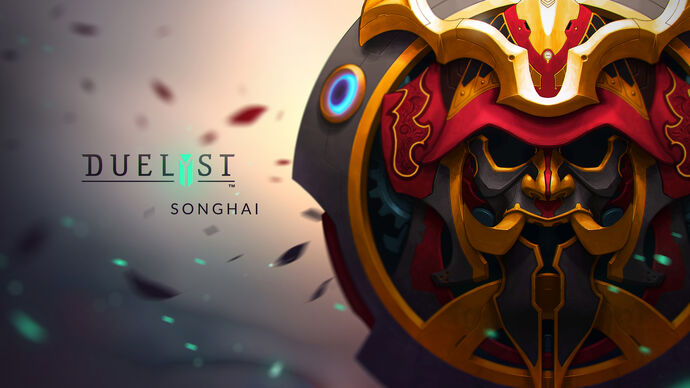 As Songhai, you can be very mobile and aggressive. You have lots of combos and synergy between your spells and units. You can use your superior mobility to outmaneuver your opponent's Minions, preferring to avoid threats rather than facing them head-on. Spells like Mist Walking allow you to get in and out quickly, and put you in prime position to Backstab your opponents. Spells like Mist Dragon Seal allow you to teleport your Minions across the battlefield to make a hasty escape or a sneaky entrance.
Lore Information
[
]
The Songhai Empire is the second largest splinter of the original human tribe after the Lyonar Kingdoms. They have heavily adapted to the most lethal expanses of the world of Mythron, in the closed and remote jungles where hyper-predators and deadly blossoms lie. For more information, see Lore.
Strengths
[
]
You have various options to deal damage, with both direct spell damage and damage-focused buffs.
High combo synergy allows you to deal heavy burst damage in one turn.
You can easily break your opponent's artifacts by using Bloodrage Mask and Four Winds Magi.
Can fight up close or at range using your Minions and spells.
You have the most diverse positioning options, using teleportation to your advantage.
Weaknesses
[
]
Your Minions are very frail.
You have low defensive options outside of retreating.
It's difficult for you to remove big threats.
You can draw 'bad hands' - hands without spells, creatures, or specific combo pieces.
If playing aggressively, you can run out of cards quickly; slower Songhai decks can have a higher chance of drawing poorly early game.
Trivia
[
]
Generals
[
]
Minions
[
]
Spells
[
]
Artifacts
[
]
Tokens
[
]