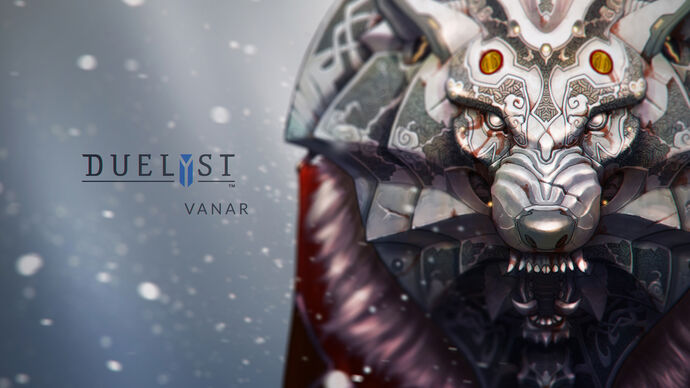 When playing as Vanar, you want to use the battlefield and Minion blocking to your advantage. You excel at forcing your opponent into bad positions. You can trap your opponent using Walls and other Minions, eventually overwhelming them with massive battlefield presence. Superior removal gives you the ability to neutralize all sorts of threats. Using Vespyr Minion summons, you can trigger lots of different synergistic effects focused around keeping the battlefield clear of threats and buffing your Minions. You can Transform ANY minion on the battlefield to your advantage. Force your opponents to choose whether they get hit by Infiltrate Minions on their starting side or Avalanche on yours! Recommended for advanced players.
Lore information
[
]
The Vanar Kindred are the original human tribe, very much in touch with the transmorphic properties of the world tree. Their shamanic customs translate into metamorphic tendencies. For more information, see Lore.
Strengths
[
]
You have excellent Minion removal options.
There are big payoffs for successfully Infiltrating your opponent's side of the battlefield.
You have very high play making potential and mind games using the Infiltrate and Avalanche zones.
It's difficult for your opponent to fully remove threats such as Fenrir Warmaster and Snow Chaser without Dispel.
Weaknesses
[
]
You have very limited card draw options.
Win conditions are very slow without your Minions on the battlefield.
Your Area of Effect spells are very conditional and can be avoided with careful play.
You have no innate healing options.
Most of your Walls have no combat stats and are weak to Area-of-Effect removal.
Generals
[
]
Minions
[
]
Spells
[
]
Artifacts
[
]
Tokens
[
]