The Vetruvian Imperium is one of the six playable factions in Duelyst.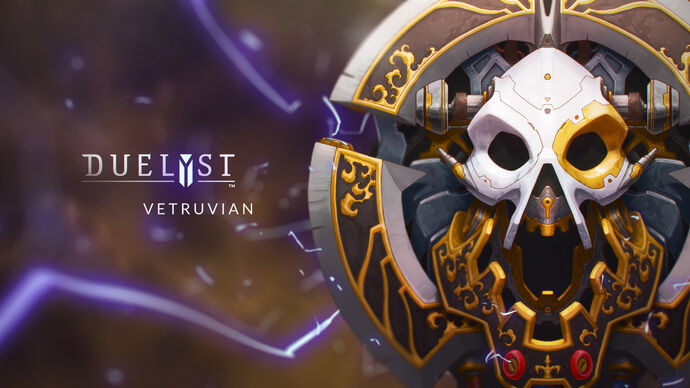 As Vetruvian, you are focused around using creatures with low base stats that have powerful special effects. You can also swarm your opponent with small creatures and buff them while drawing lots of cards. Using debuffs, you are able to weaken opposing Minions, reducing their Attack or mobility. You are most comfortable at range, controlling the 'zone' where your opponent can safely move. One single misstep can spell disaster against you, as your spells are often based on the position of your enemies on the battlefield. You can generate Dervish tokens with your spells and Minions and buff these Dervishes to gain a huge advantage in battle.
Lore information
[
]
The Vetruvian Imperium is the "nation of tinkerers" of Mythron. They are the inventors of Sandshields, originally armors and cybernetics to enable them to survive in their harsh desert environment, and now implant limbs and weaponry widely used by generals and other Mythron denizens. For more information, see Lore.
Strengths
[
]
Your minions are very powerful if not Dispelled.
You're good at destroying Artifacts due to Rasha's Curse.
Blast forces your opponent to spread out, allowing other spells like Stars' Fury to become more effective.
You have excellent late game Spells and Minions, such as Monolithic Vision and Aymara Healer.
Your Minions gain value over time - while Obelysks are alive, they generate Dervishes and some Obelysks also buff other Dervishes.
Weaknesses
[
]
Dervish tokens die at the end of the turn unless buffed by Dunecaster to remain on the battlefield.
Not very effective at repelling aggressors once they have already reached you.
Dispel removes a lot of power from your creatures.
Conditional, expensive removal. Your ability to neutralize enemy creatures only works in certain situations.
Positional requirements on many of your spells means your opponent can outplay you with well thought out movements.
Generals
[
]
Minions
[
]
Spells
[
]
Artifacts
[
]
Tokens
[
]